Chinese Tri-Glaze Clay Pottery Turtle s2299S
This clay turtle has a nice ancient Chinese Tong Dynasty famous tri-glaze on the surface. The green, white and yellow color create a charm outlook to the piece. Dimensions: w9" x d8" x h3.5"
Origin: China
Material: Clay
USA domestic continental buyers of 48 states pay $12.95 shipping (buyers of Hawaii, Alaska, US Islands, and Canada pays the extra shipping cost). Insurance and handling charges are already included in the shipping cost. In store pick up is highly welcome if you are in the San Francisco Bay Area! If you purchased more than one item we can do combine shipping. Call or email us if you have any question 650-522-9888.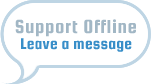 ---